The Crimea: Representation and Refuge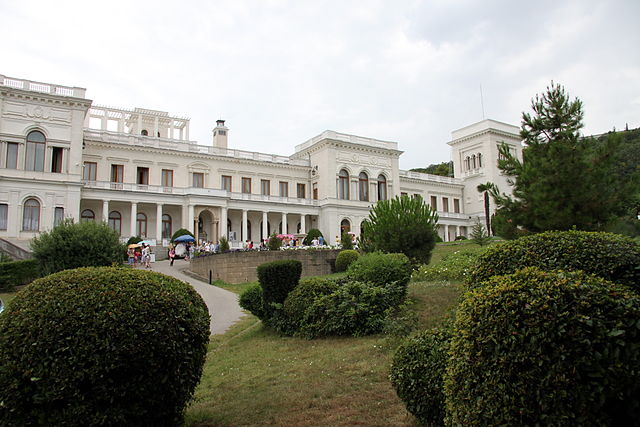 Source: Wikimedia Commons
Livadiya is a health resort on the Black Sea, which had been the summer residence of the Russian imperial family since 1860. Between 1909 and 1911 Nicholas II had a new palace built there to serve as a residence for his family. The White or Great (Bolshoi) Palace, built of characteristic Crimean limestone, was consecrated in 1911. In the years leading up to the revolution, the tsar's family often stayed there for summer vacation, but also for therapy due to the health problems of the tsarina and son Alexei. After the revolution, the palace was converted into a sanatorium for Soviet workers. The photograph shown here is from 1960. The slogan on the roof reads 'Soviet workers have a right to rest.'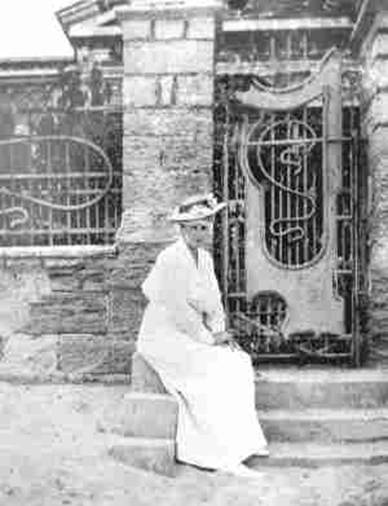 Source:
http://sobor-evpatoria.ru/priezd-imperatora-nikolaya-ii-s-semej-v-evpatoriyu
Alix/Alexandra, letter to her childhood friend Toni Becker, 23 October 1909:

I was quite ill again in Peterhof after the journey abroad & arrived here very miserable. - I am recovering somewhat, but these last few days I have been feeling less well again, such pain in all my nerves & in my back, legs, sides, heart & head. - I always lie down until Luncheon (since 2 years ago) & then take a carriage ride in the afternoon. [...] It is so beautiful here, in God's wonderful nature. Your artist's eye would have joy in everything - the deep blue sea, the dark, serious cypresses, next to them beeches, oaks, Pinus Tavrika - roses en masse, magnolia trees, violets - everything together. - The children have been bathing in the sea [...] - Just think: 15 years ago to the day I arrived here as a bride.

In May 1916, Nicholas and Alexandra visited the Crimea for the last time. It was wartime, and this left its mark on the visit. The tsar and his family first attended the launch of a new warship in Sebastopol. They then took the brand new railway line to the small but popular seaside resort of Yevpatoriya. A central part of the programme was a visit to the town's war hospitals, where wounded soldiers from Tzarskoe Selo, the small town where the family had their Petersburg summer residence, were being treated. The Tsarina and her daughters worked as Red Cross nurses during the war, and Alexandra Fyodorovna founded several sanatoria bearing her name, including one in Yevpatoriya. Regardless of this, the family also had private moments on the beach, as can be seen from Nicholas's diary and private photographs.

Zar Nicholas and son Alexei on the beach in Yevpatoriya
Source:
http://sobor-evpatoria.ru/priezd-imperatora-nikolaya-ii-s-semej-v-evpatoriyu