Treatments

Most of the important spas in continental Europe modernized their facilities in the 19th century, harnessing the inventions of the industrial age to offer patients a vast and varied array of treatments. Methods of administering the waters became more elaborate and electrical treatments began to feature, along with processes utilising light and radioactivity. In Harrogate by the late 1880s it was recognised that the old Victoria Baths could not provide the wide range of bathing facilities and treatments which were regarded as essential for a really up to date spa. Thus, the Corporation decided to borrow and adapt successful treatments from European centres of excellence.
In 1887 the borough
engineer
E.W. Harry and the Doctors Oliver and Black were dispatched on a tour of the leading continental spas, including Aix-les-Bains, Baden-Baden and Wiesbaden. On their return they recommended a reconstruction of the Victoria Baths to create an additional seventeen or eighteen baths. But the council took the ambitious decision to build a brand new structure.
The Royal Baths opened in 1897, containing four large suites of baths and providing the most advanced hydrotherapy treatments of the day. 'Nearly forty different kinds of baths were provided, using mineral waters, plain waters, steam, peat, electricity and douches, with or without massage.' (B. Jennings)
By the turn of the 20th century Harrogate prided itself on being one of the finest hydrotherapy centres in the world. A glance through the ticket book for the Royal Baths from October 1912 to July 1913 reveals many treatments bearing the names of European spas:
The
Nauheim
was an effervescent spa bath named after the German spa of Bad Nauheim; the natural sparkling waters of the original treatment were recreated by bubbling carbon dioxide through the bath. The
Schwalbach
, too, named after the German Bad Schwalbach, was an effervescent bath incorporating iron in the form of ferrous carbonate.
The
Plombière douche
was an intestinal lavage, or spa water enema, named after the thermal spa Plombière-les-Bains in eastern France.
The
Tivoli douche
, the
Aix douche
and the
Vichy douche
were treatments involving water spray, showers and massage.
Other treatments were named after the continental doctors who had developed them, for instance the
Bergonié
treatment involving electrical stimulation was named after the French doctor and researcher Jean Albard Bergonié (1825-1925). The
d'Arsonval
was another electrotherapy treatment pioneered by fellow French physician Jacques-Arsène d'Arsonval (1851-1940).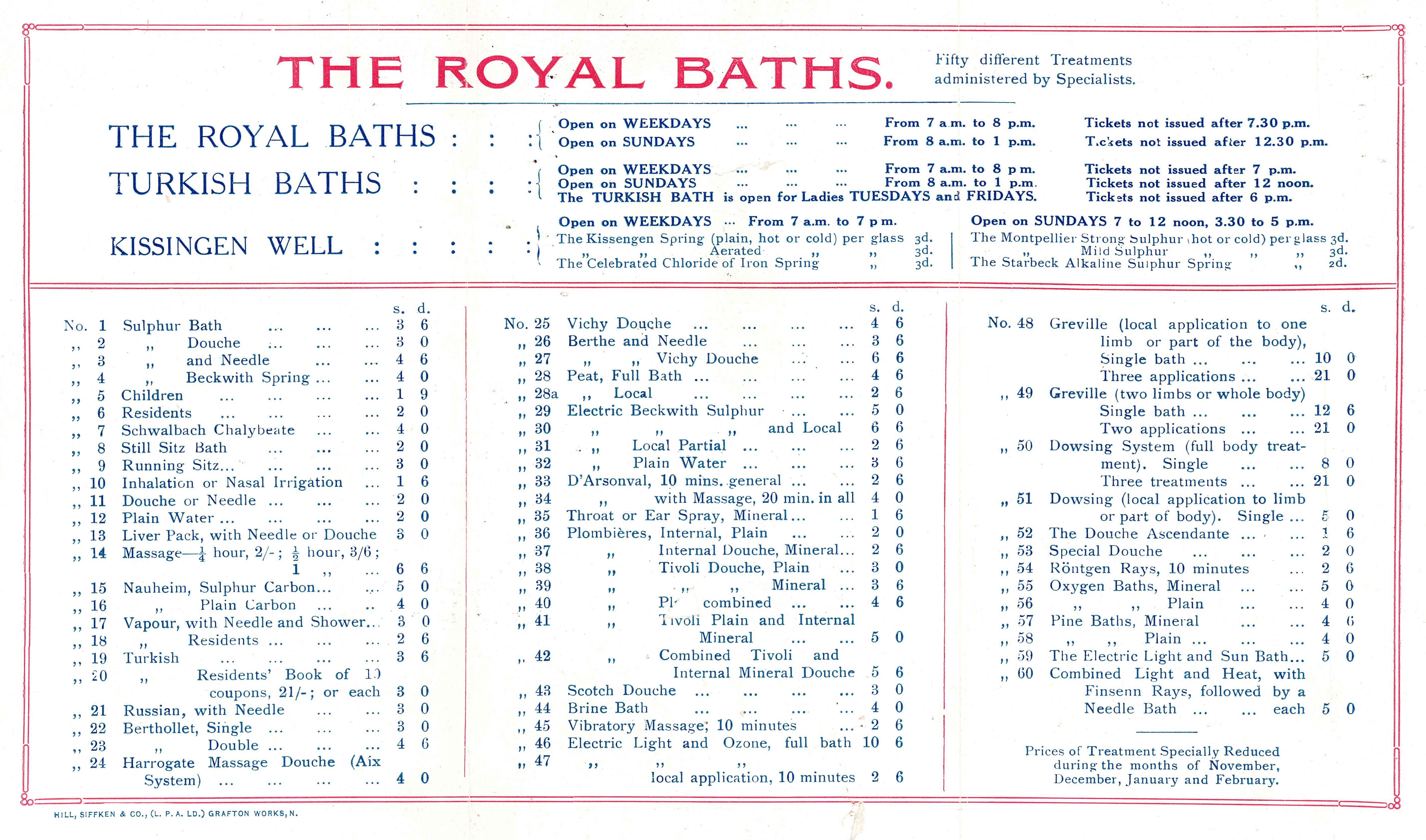 Image © Royal Pump Room Museum, Harrogate Borough Council