Augustus Bozzi Granville
Augustus Bozzi Granville (1783 – 1872) was an Italian-British medical man who made his name as a spa-doctor and as the author of influential spa guides. Whilst the market at the time was crowded with publications of this kind, Granville stood out, not just because of his vast experience, but because he skillfully combined medical advice with practical information about travel and costs, as well as vivid descriptions of the places concerned and even some entertaining gossip. Having had great success with his Spas of Germany (published in 1837), he was asked to produce something similar for England. The result was his Spas of England and Principal Sea-Bathing Places which came out in three volumes in 1841.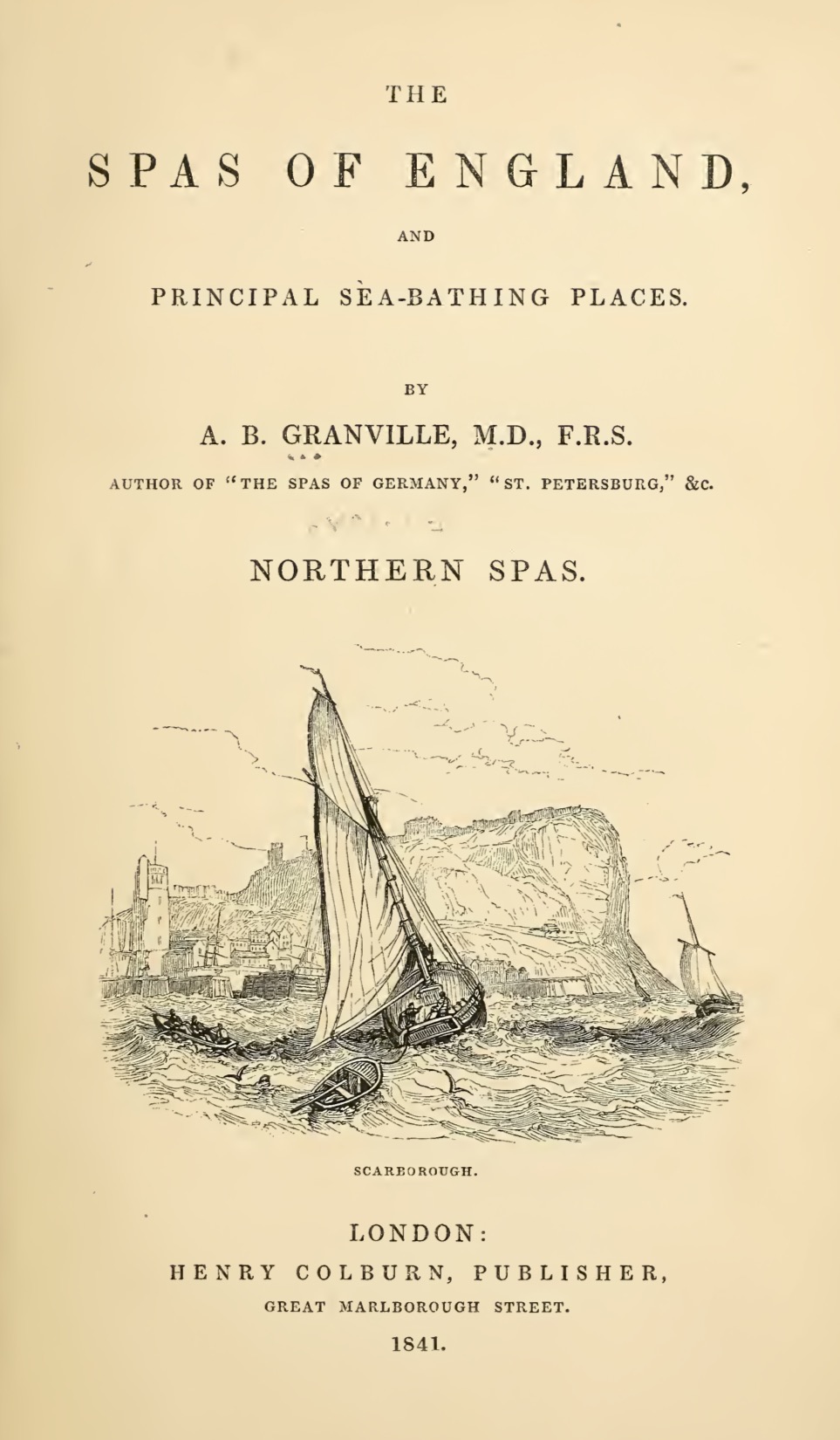 Source: Wikimedia Commons
For Granville too, Harrogate was broadly comparable to, but in one important respect disadvantageously different from, its European counterparts:

'Harrogate has the very air of a watering-place. […] Its situation is delightful. For elevation, above the Irish and the German oceans, midway between it is nearly placed; for position, at about equal distances from the three capitals of the United Kingdom (about two hundred miles); and for geological formation, favourable to human life – Harrogate stands almost pre-eminent.' Yet while in all these regards it can call itself equal to the best watering-places on the continent, there is one stark difference: the cost of staying there: 'The weekly expense of gentleman and his lady, with three daughters, and two men and a woman servant, who while living at one of the principal hotels at that spa, and using the public rooms, was disbursing seldom less than twenty guineas a week; and had he desired a private sitting-room, the charge would have been three guineas more. Now mark the difference in this respect at the Spas in Germany. The same number of persons would have been magnificently lodged and sumptuously fed in the New Hotel at Wildbad, called the Bellevue […] for 189 flors a week, including every possible expense for master and servant, instead of 281, which are the representatives of twenty- three guineas. Again, a single gentleman, with a servant, who desires to pass his allotted time at the crack hotel of the Dragon, at Harrogate, must consent to pay five guineas a week, using a table d'hôte and the public sitting- room. But at the same spa of Wildbad, in the comfortable hotel of Mine Herr Klumpp, I have known a dignitary of the church during the last season occupy an extremely neat room, with another for his valet, and to have two excellent repasts, besides breakfast and the board of his domestic, for forty-five flors, or one-third less than the charge at the English spa.' So, whilst Harrogate 'has the elements within itself of becoming a Spa of the first magnitude, even to the extent of attracting foreign travellers', it would need to rethink its business model for achieving this aim.