Enlightenment thinking and changing medical opinion had a profound impact on the use and design of spas in 18th century Europe (including Britain). The traditional spa treatment practiced since Roman times was bathing. Drinking the waters is a much younger practice, introduced in the course of the 17th century and becoming more dominant in the 18th. Bathing was not abolished entirely but significantly reduced (instigated by discussions about the permeability of human skin and hence the ability of the water to get into the body). This shift in medical theory and practice had crucial implications for the rhythm and character of spa life and for the infrastructure of spa places. The new spa routines were part of a larger dietetic regime and would look approximately like this:

getting up early in the day (6ish), going to the well and drinking the prescribed amount of water
in-between the cups one was supposed to drink, and afterwards for at least an hour, walking was necessary, preferably in good company
breakfast at about 9am, and then again some fresh air and exercise which could mean walking, but also hiking, hunting, or light sports
lunch and rest afterwards
for some patients a bath, for others a second round of drinking in the afternoon, and then again rest and good company
evening meal, some reading or entertainment, early bedtime.
Fresh air, aesthetic enjoyment and sociability had become part of the therapy. Almost as important as the springs themselves was now their environment: a pleasant landscape, space for easy walks, preferably a promenade leading from and to the spring or pumping station, and a variety of public rooms for communal activities such as eating together, dancing, conversing, playing cards, games, musical instruments, even amateur dramatics, and so on. Looking at the histories of individual spas, we can see that they were either newly created (as demand grew) or drastically re-shaped and extended in this period.
Places like Pyrmont, Carlsbad, Baden-Baden, Vichy, Montecatini Terme etc., but also Bath, owe their current shape and design to this development: thus the foundations for a modern spa culture were laid.
Left: promenade in Pyrmont, right: the covered promenade in Marienbad
Source: Wikimedia Commons
Harrogate developed as it did to keep step with these wider trends. The Promenade Room (today the Mercer Gallery) was constructed in 1806 to create a large, central space indoors in which to promenade, often to the accompaniment of music. It also acted as an Assembly Room, hosting balls, lectures and other sociable events. In 1835, landscaped pleasure grounds were created around the Montpellier Baths, and a terrace and gardens were laid out to the rear of the Royal Promenade and Cheltenham Pump Room, accessed by glazed doors at the far end of the grand saloon, where rose gardens and bandstands offered an elegant environment for promenading. Later in the century, the Valley Gardens, occupying an area of ground known as Bog's Fields, were created on the model of the continental Kurpark.

Image © Royal Pump Room Museum, Harrogate Borough Council
When building work was underway on the foundations for the Montpellier Baths in 1833, six new mineral wells were discovered. One of them resembled in its composition the
Rakoczy Quelle
in Bad Kissingen, a famous Bavarian spa. In naming it Kissingen Well, proprietor Joseph Thackwray is likely to have wanted to garner the prestige accruing from association with this long established resort. In this, he was merely repeating what Cheltenham and other British spas had already done by naming various elements of their spa infrastructure after the French town of
Montpellier
which had long been celebrated for its services to health.
Left: Analysis of the Kissingen Well by R. Hayton Davis, 1884
Right: Montpellier, France, Source: Wikimedia Commons


As mentioned before, entertainment was an integral part of the spa experience. When Thomas Gordon was tasked with managing the musical entertainment in Harrogate's Spa Rooms (later the Royal Spa Concert Rooms), he made a point of offering high-quality concerts and engaging orchestra players and soloists of national and even international acclaim. 'The greatest occasion of all must have been that of 6th October 1849, when the artists were Henrietta Sontag (for whom both Weber and Beethoven wrote major parts); Lablanche, for whom Schubert wrote songs, […] and Thalberg. […] Short of attracting the ailing Chopin to Harrogate, or Liszt, Gordon could scarcely have found greater artists than he did.' (H. H. Walker) He thus fashioned a
concert culture
that was equivalent to that offered in Baden-Baden's
Maison de Conversation
.
Musicians Henrietta Sontag (1806-1854) and Sigismund Thalberg (1812-1871)
Source: Wikimedia Commons
Image © Royal Pump Room Museum, Harrogate Borough Council
Another continental import was the
Kursaal
(later: Royal Hall). As early as 1841 Augustus Bozzi Granville, in his
Spas of England
, had suggested that Harrogate might benefit from the erection of a
kursaal
building in its centre, which would combine various functions such as dining hall, assembly hall, music hall, theatre, casino, and even hotel. Half a century later, this suggestion was put into practice. In doing this, Harrogate 'broke with the established British spa tradition, moving quite deliberately toward the continental manner.' (F. L. Wright) The preparation for the project entailed the minute inspection of several continental specimens. Then, after a downscaling of the plans to match the available funding, construction work began in the spring of 1901, with the official opening taking place on 28 May 1903. The building was surrounded by a whole complex of public spaces – gardens, walkways, bandstands, tennis courts – designed for mingling, exercise and relaxation. This too was in conscious emulation of continental models.
Visited in preparation for Harrogate: Kursaal buildings in Ostend (top), Bad Oeynhausen (bottom left) and Marienbad (bottom right)
Source: Wikimedia Commons
With regard to the strictly medical side of the spa, too, Harrogate looked to the continent. The variety of its wells allowed it to diversify the
treatments
on offer by taking up some new developments. The British Medical Journal of July 1919 reports that: 'In order to make the best use of these mineral waters the Harrogate Corporation […] has spent nearly a quarter of a million pounds on the provision of modern bathing establishments. Besides the local sulphur water baths, apparatus for almost every approved balneological and electrical treatment has been set up […]. At the Royal Baths more than seventy different baths, packs, douches, massage-douches, electrical treatments, and accessory treatments are given by trained attendants.' And in order to spread the word about this among the members of the medical profession, discounts were offered and information materials printed.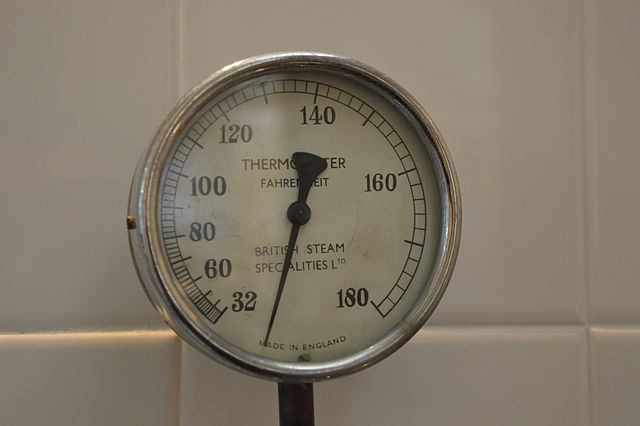 Images (right and centre) © Royal Pump Room Museum, Harrogate Borough Council; (left): Wikimedia Commons
Whilst the number of visitors from abroad never grew very large, there were performers and craftsmen who came over for business, and some of them stayed, giving Harrogate a special kudos. Notable instances of this were the Italian Antonio Fattorini who opened a jewellery shop in Harrogate in 1831 to take advantage of the seasonal trade; and dressmaker Louis Cope whose Jewish family had come from Poland to London, and who settled in Harrogate in 1914. Having initially moved here for reasons of health – he suffered from asthma – he realised the business opportunities and became a big player in the fashion industry. And there was of course Fritz Bützner (later Belmont) who came to Yorkshire from Switzerland in 1907, worked as a chocolatier in Harrogate from 1912, and founded Betty's Tearooms in 1919. Interestingly, it is today of course a very English institution.
Left: Betty's tearooms, right: Fattorini's jewellery shop
Source: Wikimedia Commons
From
Kursaal
, p. 29