Harrogate
Marx came to Harrogate on 20 November 1873 and stayed until 17 December. Together with his daughter Eleanor (a.k.a. Tussy) he stayed at the Old Swan Hotel and took the waters.
Images © Royal Pump Room Musem, Harrogate Borough Council
Karl Marx to Friedrich Engels, 30 November 1873:

[Dr.] Gumpert examined me bodily and found a certain distension of the liver which according to him I cannot get rid of completely until I go to Carlsbad. I have to take the same water as Tussy (they call it the Kissingen water here, on account of the family likeness), but none of the mineral baths. Apart from that, my regime and Tussy's are somewhat different. She may only walk in great moderation – a point on which Gumpert is wholly in agreement with Tussy's local doctor, […] I, on the other hand, am supposed to go on vigorous marches. Gumpert's advice to do very little was scarcely necessary, since up to now I have actually done nothing, not even written letters. I had imagined that two weeks here would suffice, but Gumpert insisted on three. And in fact it will be the middle of next week before Tussy is allowed to take a mineral bath that is much stronger than the one she has been permitted hitherto. […]

There was a storm here yesterday (although on the whole the air is marvellously invigorating) and I caught a bad cold which has kept me indoors today, following the maxim: Principiis obsta. Our lune-de-miel [honey moon] couple, about whom Tussy has already told you, were so horribly bored in the first 3 days—they are called Briggs incidentally—that the young husband prescribed a friend, a devil with a limp, who arrived yesterday. Since then they seem livelier, to judge by the noise they are making. Tussy and I took refuge in chess yesterday evening.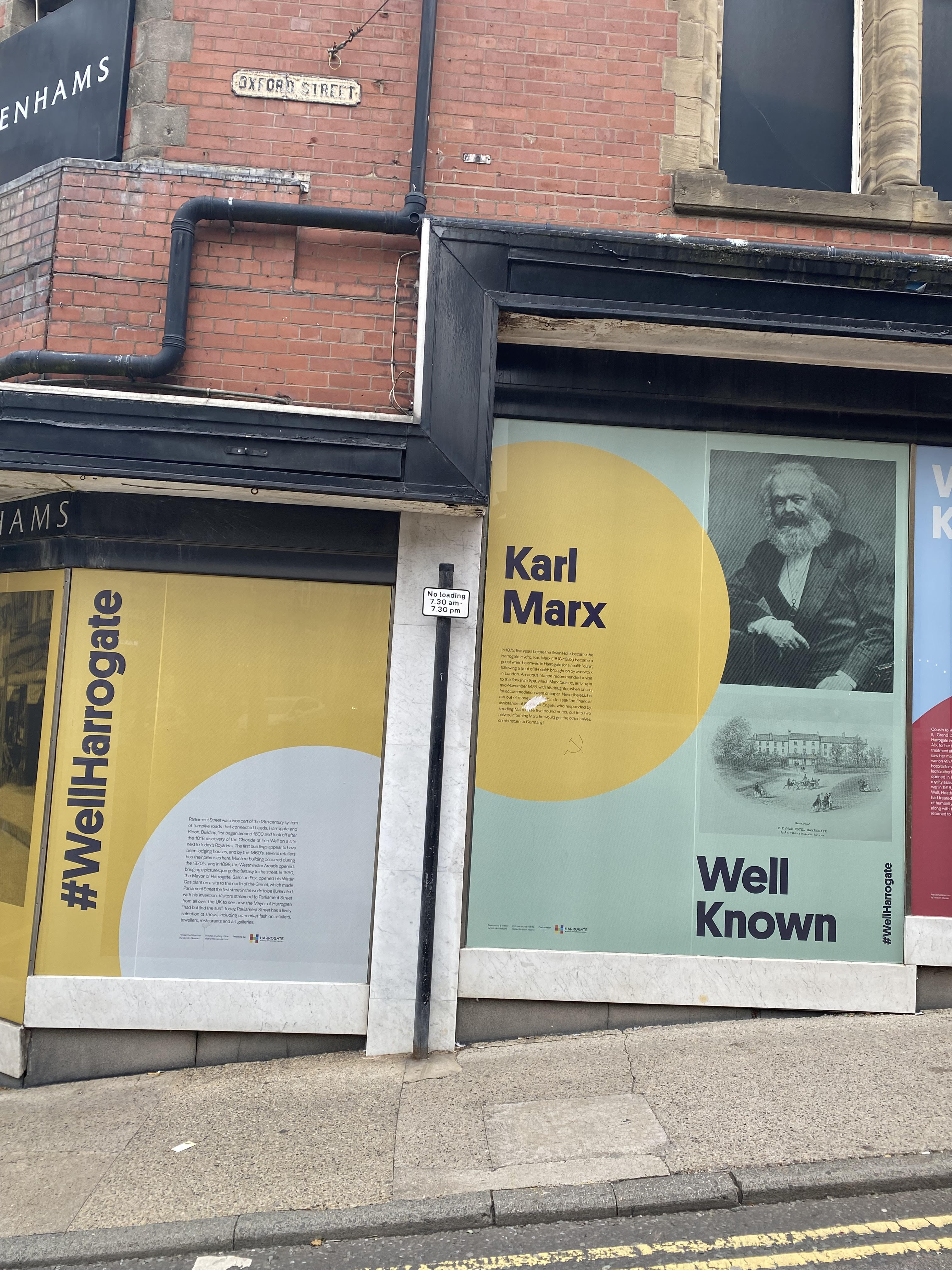 Marx's presence in Harrogate today.
Image © Karen Southworth